As governor of California, Arnold Schwarzenegger showed how to lead a state with vision, determination, conviction and purpose. While his terms were rather mixed in terms of success, he made California a pioneer in environmental protection and implemented many crucial initiatives to counter climate change. Ever since president Trump took office, "Terminator" Schwarzenegger has transformed into the outspoken conscience of America. The OOOM jury voted him third in its ranking of the world's most inspiring people. In times of transition and polarization, his voice is needed more than ever.
He says out loud what many people in America and the entire rest of the world think, speaking clearly, concisely and unambiguously but without malice. "It was embarrassing," was his devastating judgement, addressed to US president Trump. Commenting on a press conference Trump held with Russia's president Putin to address the question of whether Russia had meddled in the US elections, Schwarzenegger didn't mince words: "You stood there like a little wet noodle, like a little fanboy. I was wondering when you'll ask Putin for an autograph, or a selfie. You betrayed our secret services, our judicial system and our country in this press conference. What's wrong with you?"
Arnold Schwarzenegger, 71, former governor of California, has become the outspoken conscience of an entire nation. He uses social media, especially video messages, to say what many others are afraid to express. Since he stepped down from the political stage, his voice has acquired more weight than ever.
The Styrian, who is now based in Santa Monica, was never a man of many words, at least not during his career as a bodybuilder or on the movie screen. "Hasta la vista, Baby" and "I'll be back" sum up the extent of most of his on-screen dialogue. However, with the inauguration of Donald Trump in 2017, Schwarzenegger began voicing his opinion frequently—and publicly. Where he suspects political grievances, he speaks up. Schwarzenegger's credibility and popularity have made him one of the most important players in this subliminal ideological war. After the end of his active political career in 2011, he found a new role, and it is likely to be the role of his lifetime. The OOOM jury has voted Schwarzenegger third in its ranking of the world's most inspiring people.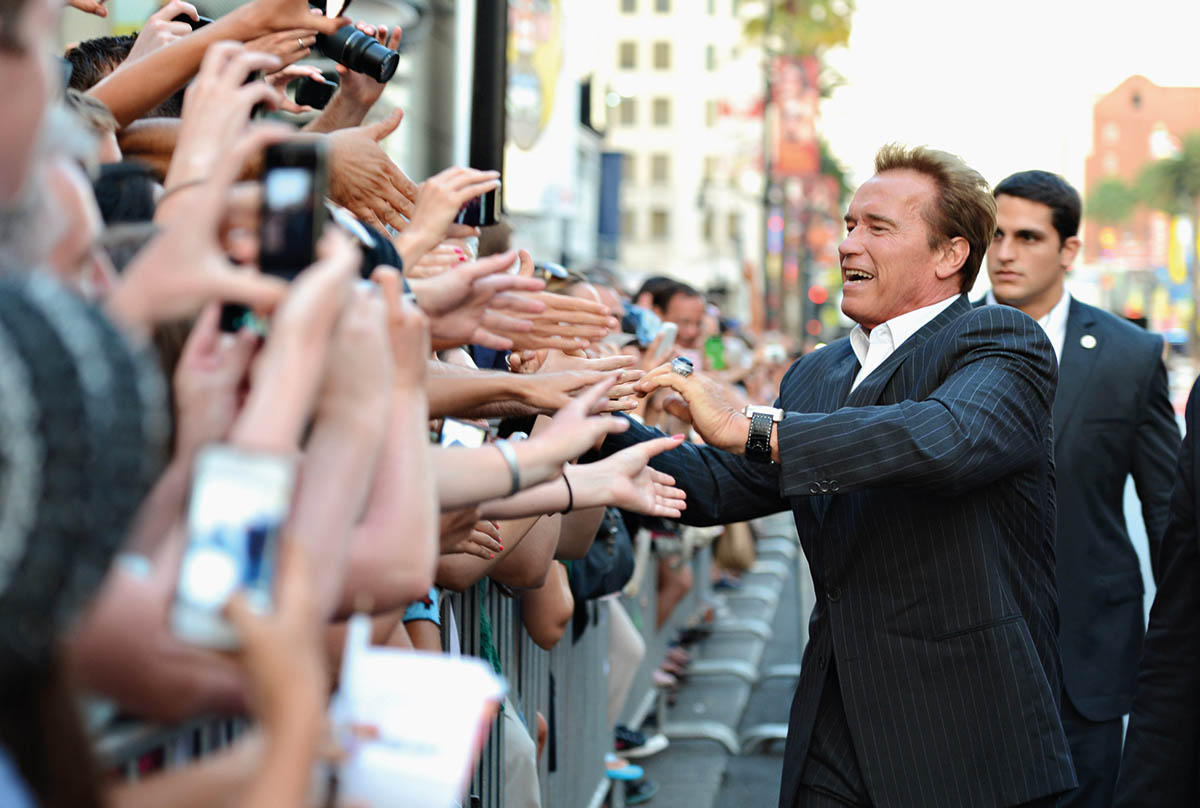 Bobblehead Trump. Schwarzenegger does not shun provocation in his mission. "So, President Trump, I know you really want to be an action hero, right?" Schwarzenegger says in his video message, while looking at a Trump bobblehead. "So, take it from the Terminator, you're only supposed to go back in time to protect future generations. But your administration attempts to go back in time to rescue the coal industry, which is actually a threat to future generations." Then he explains to the president that his championing of coal is as futile as it would have been to defend the (long bankrupt) video and DVD rental chain Blockbuster against Netflix. The video has been watched 33 million times so far.
Video star. Schwarzenegger does not only attack Donald Trump. In his videos, he confronts Nazis, speaks up against hate and racism, supports war veterans and urges people to vote. He has also sharply criticized the gerrymandering (manipulation of electoral districts) efforts of the Trump administration.
With the victims. After the devastating wildfires swept California, Schwarzenegger visited the completely annihilated town of Paradise, where this year's number one person in the OOOM 100 ranking, Allyn Pierce, saved lives, to thank the heroes in person. "This is the spirit of America," Schwarzenegger said. "Everybody helps everybody. That makes us the greatest country on Earth."
Schwarzenegger has found a new role, and it is likely to be the role of his lifetime.
The man who was once the most successful bodybuilder in the world and later became a Hollywood star and governor of California has found only one obstacle impossible to overcome in his life: US law prohibits individuals who were not born in the US from running for president. Without this restriction, the name of the 45th president of the USA would presumably be "Arnold Schwarzenegger."
© 2023 PANAREA Studios GmbH, Wien. Alle Rechte vorbehalten.
Das Datum der Erstveröffentlichung dieser Story kann vom Online-Veröffentlichungsdatum auf www.call-magazine.com abweichen.