41 Tim Cook, Apple CEO
(NEW) Cut his own salary by 40%, wants to donate private assets. A role model.
42 Andrew Garfield, Actor
(NEW) Played in musical film after Spider-Man – and can do it. Golden Globe. Strong.
43 Han Bing, Artist
(NEW) Opens up new dimensions in art with sensitive and disturbing imagery.
44 Shirin Ebadi, Iranian lawyer
(NEW) Muslim Nobel Peace Prize winner, predicts downfall of Iran regime.
45 Markus Hinterhäuser, Salzburg Festival director 
(NEU) Made the Salzburg Festival an intellectual and spiritual experience. Visionary.
46 Koo Jeong-A, Artist  
(59) Thrills with fluorescent skate parks from PKM Gallery Seoul to Arles.
47 Emmanuelle Charpentier, Nobel Prize winner
(78) Invented gene scissor CRISPR/Cas9 to alter DNA. A pioneer.
48 Valie Export, Artist
(Re-Entry) Vienna's Albertina honors her feminist work with major show starting June 2023.
49 Emily St. John Mandel, Writer
(NEW) Visionarily foresaw the world paralyzed by a virus in "Station Eleven." A great writer.
50 Albert Ostermaier, Poet
(NEU) Contrasted the darkness of time with the power of love in "Tar." Encouraging.
51 Katharine Hayhoe, Climate scientist
(NEW) Leading expert in the fight against climate change. Shows us new ways forward.
52 Nipun Mehta, ServiceSpace founder
(28) Social impact hero of Silicon Valley, founded Gandhi 3.0 to show new ways.
53 Phoebe Waller-Bridge, Author
(Re-Entry) Writes screenplay for new Bond and for Amazon series "Tomb Raider." Creative.
54 Sister Lucy Kurien, Maher founder
(18) Takes thousands of children off the streets in India with her charity. A quiet heroine.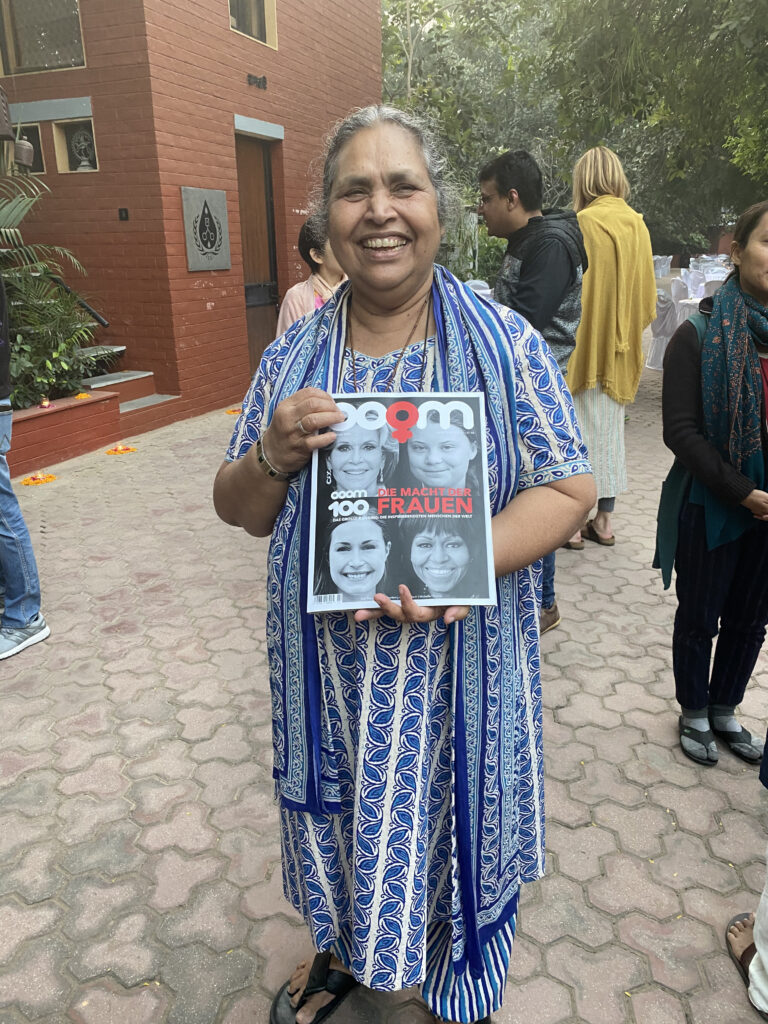 55 Natascha Kampusch, Author
(NEW) Wrote book "Showing Strength," provides strategies for powerful living. More important than ever.
56 Karuna Nundy, Lawyer & activist
(NEW) Fights for women and against marital rape in India. Admirable.
57 Elton John, Singer & Legend
(NEW) Plays most successful tour ever for stage farewell: 278 concerts, 817 million sales.
58 Michelle Yeoh, Actress
(NEW) Asian superstar, playing strong as ever in "Everything Everywhere All At Once." Said at the Screen Actors Guild Awards: "This is not just for me, this is for every little girl that looks like me." An inspiring woman and a role model for many.
59 Deepak Chopra, Inspirational Leader
(38) Best-selling author, brings spirituality to an audience of millions worldwide.
60 Maria Shriver, Journalist
(NEW) Inspires millions with her "Sunday Paper." A medium for the heart and soul.
61 Martha Jungwirth, Artist
(30) Created a monumental life's work, didn't make her breakthrough until she was 80.
62 Oprah Winfrey, The Voice of America
(70) TV host and entrepreneur, donated hundreds of millions of dollars to social causes.
63 Aminata Touré, Politician
(NEW) First Afro-German minister in Schleswig-Holstein. Advocates human rights.
64 Malala Yousafzai, Nobel Peace Prize winner
(55) Advocates for children's rights to education. Also found happiness in her private life.
65 Gabriel Massan, Digital artist
(NEW) Works with digital sculptures and augmented reality. Trendsetting.
66 Nan Goldin, Photographer
(NEW) More successful than ever before. Broke taboos early on with works of intersex people. Groundbreaking.
67 Adriano Pedrosa, Curator 
(NEW) Directs the MASP Museum São Paulo. Curates the 2024 Venice Art Biennale.
68 The Weeknd, Singer 
(67) Touches our hearts with his sound, provided music for "Avatar." Strong artist.
69 Hans Ulrich Obrist, Art Curator
(46) Serpentine Galleries boss allied with Fortnite, focuses on AR, VR and even video games.
70 Darren Walker, Ford Foundation president
(51) Philanthropist and activist, manages 16-billion social justice fund. Top.